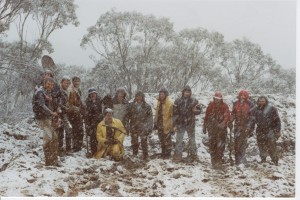 As a not for profit establishment, Bembooka Lodge has the lowest accommodation costs on Mt Hotham. Don't let low prices scare you into thinking the facilities are low quality. They're not. The lodge features modern, clean facilities with many state of the art features.
In late 1977 builder David Stonehouse, submitted a Ski Club Design to Hotham Management Committee (HTC)
In 1980 seven blocks of land became available. David then submitted revised plans and was successful in being allocated a block. Potential members were approached via Gary Peach and Don Creed.They played football for Koonung/East Kew Football Club. Together they put in $2,000 plus 40 working Days.
An advertisementwas then placed in The Age calling for members. A total of 25 members signed. The initial group of members included builders, carpenters, electricians, accountants, motor mechanics, University students and even an earthmoving contractor.
The block was cleared in October 1980 and the first working bee was held during Melbourne Cup weekend in November. Members dug the foundation. Frame were prefabricated at Gary Daff's place. These were stored until they required them onsite at the mountain.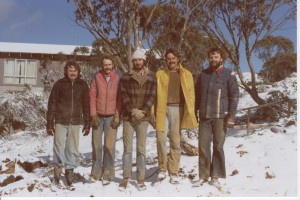 It snowed during the first working bee weekend however trenches were dug and the concrete poured. 20 Gentlemen stayed on Mountain in IHP Lodge for 4 weeks and worked over the Xmas break. Working bees were then held every weekend until May 1981.
The frame of the lodge was assembled in Dingley (Vic) & transported by a low loader to the Mountain via Omeo for Fitment. Finances were getting low so all the members raised more capital and all put in another 10 working days.
The Ski lodge was open for business in 1981. There was a drought in 1983 and then no snow that season so it was a challenging time for the members. The booking system was then set up and run by Don C.
Initially before gas & electricity was connected a diesel tank was fitted underground and a lister generator was fitted for power.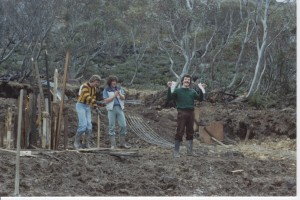 Over the years a spa & sauna, front balcony, transit room and 2 brand new commercial kitchens have been added
Original members including Don Creed, Geoff Webster, Gary Peach are still involved in the lodge and on the committee. Today, the next generation of some of the members family are involved. Members drive decisions around the management of lodge, up keep and are even involved to this day in annual working bees although many tonnes of wood no longer need chopping due to the gas log fire!!!!