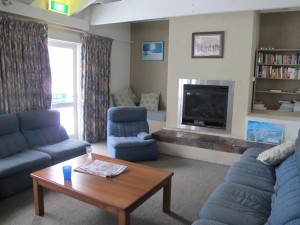 Bembooka Lodge, situated on Mt Hotham in Victoria's high country, is your high quality, high value accommodation solution.
Many potential guests ask how we can offer quality accommodation at such low prices? Easy. We are a not-for-profit lodge. We keep overhead costs down by only hiring one full time manager. Our dedicated team of club members keep running costs down by completing regular maintenance and renovation projects. Our wonderful guests also pitch in with minor duties. The result? Low prices and high quality, modern accommodation means many of our guests return for another visit!
All accommodation dollars go directly into continual renovations and additions. Recent renovations include:
Lounge area given a fresh makeover under the watchful eye of our interior designer
Large double glazed picture window installed in the dining area. Now everyone enjoys the magnificent high country views while eating, socialising and relaxing.
Commercial kitchen with larger stoves and ovens so you can prepare and cook at times that suit you.
The pool room is a great place to unwind after an active day!
Large screen TV with DVD player. With 'free to air' reception you can watch the footy or your favourite TV shows.
Comfort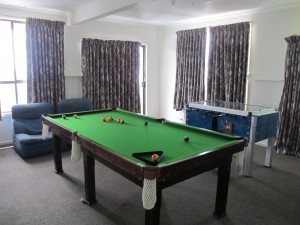 After a big day on the slopes, kick back and relax in front of the gas log fire with a good book and a glass of red.  Or perhaps you'd prefer to rejuvenate in the spa or sauna, enjoy a game of pool or table tennis with friends? 
All rooms are individually heated and have their own ensuite. Free Wi-Fi internet access is available throughout the entire lodge.
Quality food included:
A fresh supply of breakfast food and basic cooking staples including bread, milk, butter, cereal, rice, flour herbs and spices are supplied, for you to use, at no additional cost! 
Room variety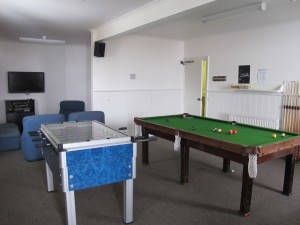 Bedrooms can sleep between six and eight people.  All rooms have a mix of double and single bed bunks in different configurations.
Kitchen – Large commercial fridges, with your own reserved area. Plus 2 x ovens/cooktops, 2 x microwaves, 2 x commercial dishwashers.
Bedding – Simply bring your own linen [ie: sheets, pillow cases and towels] You may bring your own doona, however these are supplied.
Getting Here – The lodge is located approximately five hours from Melbourne via either Bright or Omeo. Once you arrive at Mt Hotham, finding Bembooka is easy.
Check out our map: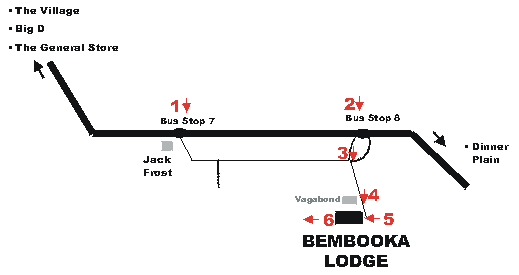 Once on the mountain, go to bus stop number 8, there is a flight of stairs up off the road, walk past first row of lodges across to second row, turn left and Bembooka is last lodge in that row).
You must carry snow chains to Mt Hotham during winter. If you need to hire chains, we recommend stopping at Hoys Harrietville. They operate the Mt Hotham Chain Fitting Service. Located on the Harrietville approach this fantastic service moves to the current chain fitting/removal location when snow is on the road. This service is offered FREE when you hire your chains from Hoys. Coming from Gippsland – Hoys Chains Omeo is located in the Main St of Omeo.